Take Control of Your FFB Cards
What is FFB Wallet? It's a next generation solution from First Fidelity Bank that gives superior capabilities to use and manage your cards. The advanced platform provides you with greater control of your cards while offering enhanced insight into your financial transactions. FFB Wallet will empower you to make smarter spending decisions and also provide monitoring/security capabilities you never thought possible.
Download the FFB Wallet app to get started!
This app is a one-stop shop to view spending activity, set up card controls & alerts, manage travel plans & notifications, report cards as lost or stolen, and many more features all customizable to your lifestyle.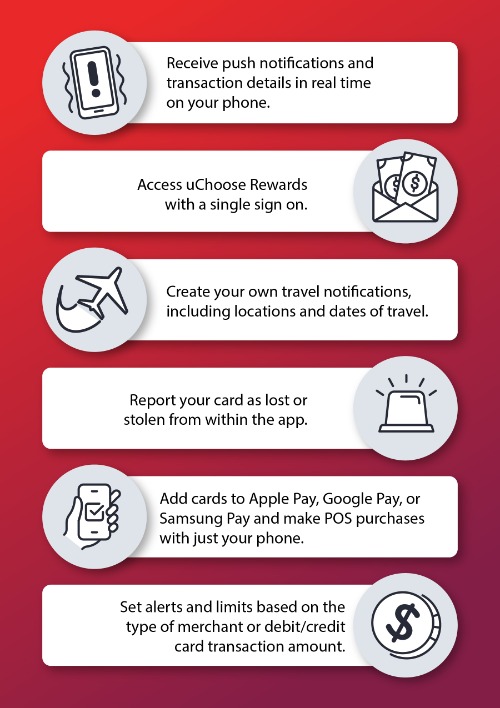 Steps to Set Up FFB Wallet
1. Download and launch the FFB Wallet app from the app store on your mobile device
2. Choose if you would like to allow alert notifications
3. Click on "Sign in with GoBankFFB" to launch your FFB mobile app
4. Log in to your app and scroll down on the dashboard to the FFB Wallet Card
5. Click on "Open FFB Wallet"
6. Set up Touch ID or Face ID for a quicker, more secure biometric log in experience
7. Choose if you would like to make your mobile device the primary one to receive notifications
8. Check out the new features and functionality!
After initial setup, your settings can be changed by opening the hamburger menu ≡ in the top left corner and selecting Settings. Options that can be enabled/disabled in Settings include Primary Device, Transaction Enrichment, and Biometrics.
All FFB cards (debit and credit) tied to you should automatically load into FFB Wallet. If you have more than 10 cards with FFB, some cards may not load. In this case, you can manually load any missing cards by clicking Add Card. Only FFB debit and credit cards may be added to FFB Wallet.
Transactions do not backload. This section will start showing transactions performed with that card starting with your first sign-in to FFB Wallet. Only transactions on that specific card will appear. We are not able to change the order in which the cards appear.
Spend Insights: Only transactions performed on that specific credit or debit card after FFB Wallet has been activated will appear in Spend Insights. If you want insights into all spending, not just card usage, check out Money360.
Transactions on all cards: From the hamburger menu ≡ in the top left corner, selecting Transactions will show transactions on all debit and credit cards in FFB Wallet in a single list rather than by card.
Generally upon second login, you will be asked if you want to Enable Transaction Enrichment. Choosing "yes" allows FFB Wallet to gather location data from the phone for more precise information about where a card is used.
Switching the card "off" will prevent transactions from being processed online or at a terminal.
Transactions specific to the card displayed will appear here. Click "View All" to see more than the three most recent transactions.
More information specific to the card displayed at the top of the screen.

View Digital Card: shows full card number for entering online. Requires MFA to view.
Rewards: Links to uChoose Rewards site
Spend Insights: Breaks down expenses with this card by category, date, or location.
Card on File: Keeps track of merchant sites where card information has been stored for future purchases.
Statements: Available on credit cards only. View copies of previous statements.
Customize alerts, create travel plans, and report cards lost or stolen.


Controls & Alerts: Create rules for what transactions are allowed and when alerts are sent based on Location, Merchant Types, Transaction Type, or dollar amount.
Manage Travel Plans: Input dates and destination of travel to avoid card being declined for suspected fraud.
Report Lost or Stolen: Prompts the client to call FFB to complete the report.
Manage PIN: Available on debit cards only. Prompts the client to call FFB to change their PIN.