---
Program Summary 1995-2021
FFB has been the sole sponsor of the Integrated Business Core (IBC) program since it was created 26 years ago
168 actual companies started
$560,000+ loaned to students by First Fidelity Bank (avg. loan amount: $3,333)
$710,000 donated by First Fidelity Bank to sponsor the IBC program over the past 26-years
$1,596,000 donated to charities (avg. amount donated to charities: $9,500)
106,000 community service hours (avg. service hours per business: 631)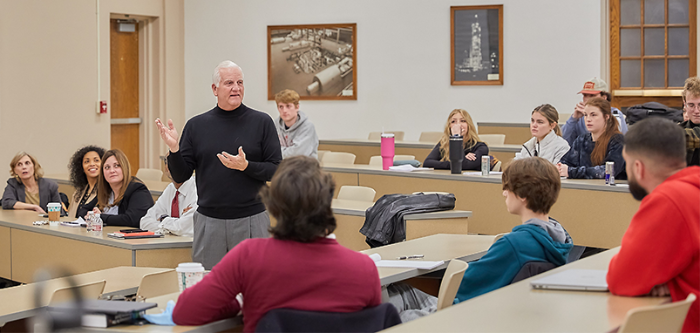 Students in the First Fidelity Bank Integrated Business Core (IBC) program receive hands-on, real-world, experiential training through simulated business opportunities inside and outside of the classroom. Starting with the formation of a company, students brainstorm product ideas, perform market analysis, manage employees and discover legal implications of business transactions associated with a plethora of day-to-day business dealings. The First Fidelity Bank IBC program develops the skill sets necessary to launch a successful business by exposing students to all aspects of business; including accounting, financial analysis, market analysis and advertising, supply chain, website development and design, employee/employer relationships, and the business regulatory environment. Students are immersed into the business arena where they work side-by-side with professors, industry professionals, and community partners such as First Fidelity Bank. First Fidelity Bank is an integral component of the program by considering loan proposals by the student companies. Banking executives from First Fidelity Bank offer practical feedback and an invaluable experience to the companies as the teams work to assess risks associated with their start-ups.
The key to the success of the First Fidelity Bank IBC program is that it produces an extremely high level of student engagement in the business and service ventures. As one student put it, "It's one thing to talk about a business plan or even write one (that' what we do in other classes), but it's something else to have to generate an idea from scratch and turn it into a profitable business - all in 15-weeks." This challenge has an extremely positive impact for everyone involved in the educational process because it creates a high level of student commitment to the success of his or her IBC company. Based on data from questionnaires that were used as part of a systemic evaluation of the core undergraduate curriculum, the First Fidelity Bank IBC program has had a profound positive impact on the vast majority of the students who participate in the program. For example, when asked to identify the single most positive impact of their undergraduate business education, over 50% of graduating seniors who were in First Fidelity Bank's IBC program (i.e. 18-months to 2 years after the actual experience) specifically named the First Fidelity Bank IBC program. By contrast, less than .5% of non-IBC students mentioned anything related to any of their junior-level courses.
Companies formed through the First Fidelity Bank IBC program have donated their profits of over $1.596 million to local charities since the program's inception 26 years ago. First Fidelity Bank has loaned over $560,000 to students in the program. Students have also donated over 106,000 hours of community service to local non-profits, schools, and community shelters.