At First Fidelity Bank our main goal is to help you accomplish your financial goals. We are partnering with Unifimoney to give customers the choice of investing in traditional as well as alternative investments through a self-serve app built to simplify, diversify, and give access to additional asset classes not offered through traditional banking services.
To access Unifimoney, log in to GoBankFFB Online Banking or your app and click on Unifimoney card.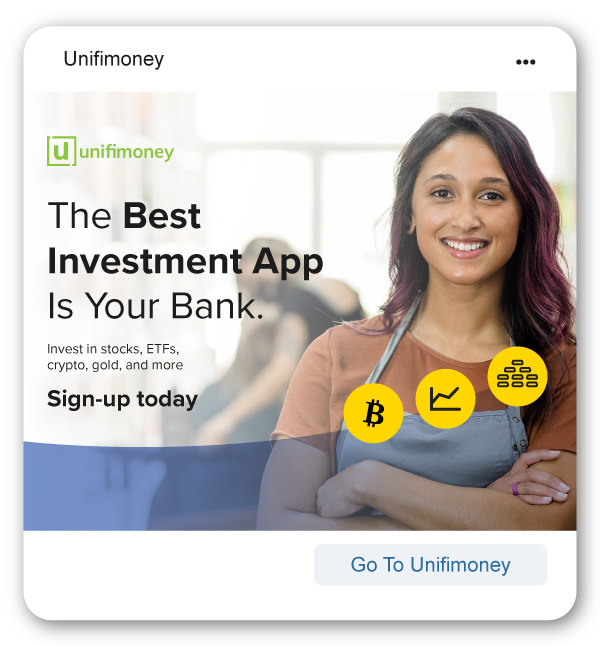 Simplified Investing and Money Management
Unifimoney from First Fidelity Bank gives you a unified solution that ties together your banking and your investing - making it easier than ever to make your money work for you.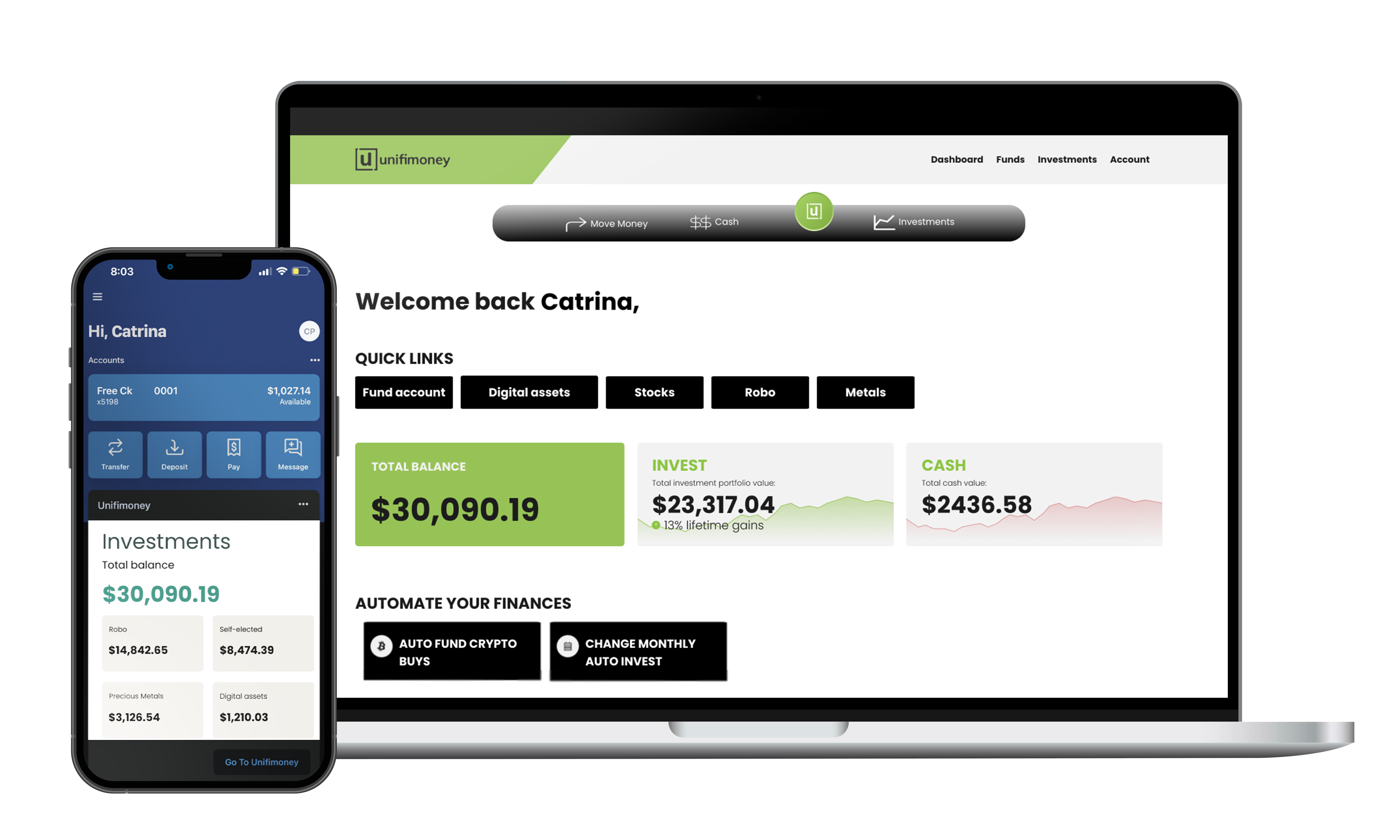 From buying stocks and precious metals to passive investing with our Robo platform, you now have a wide variety of easy-to-use digital wealth management tools with the added convenience of our banking app.
Important Information and Disclaimers
Investing involves risk, including possible loss of principal. Investment advisory services are provided by Unifimoney RIA, Inc., an SEC-registered investment advisor. For important information and disclosures relating to the robo-investment account, visit https://www.unifimoney.com/legal.
Brokerage account services are offered through Apex Clearing and Custody, Inc. ("Apex"), a registered broker-dealer, member of FINRA and SIPC. Your cash and investments are protected by SIPC up to $500,000, with a limit of $250,000 for cash. Deposits at Apex are NOT deposits or other obligations of and are NOT guaranteed by First Fidelity Bank. Not FDIC insured-May lose value.
Digital assets and investment accounts are not FDIC Insured - No Bank Guarantee - May Lose Value. Digital assets (i.e., cryptocurrencies) held in your digital asset account are not insured by any governmental entities, including but not limited to FDIC or SIPC. Investing in digital assets involves risk, including risk of loss. Digital assets are highly volatile, can become illiquid at any time, and are for investors with a high-risk tolerance. Investors in digital assets could lose the entire value of their investment. You should carefully consider whether trading or holding digital assets is suitable for you in light of your financial condition. No Bank Guarantee and May Lose Value.
Precious Metal Products: Precious Metal trading is offered through GBI, a New York-based precious metals dealer. Deposits at GBI are NOT deposits or other obligations of and are NOT guaranteed by First Fidelity Bank and are NOT FDIC insured.